An online seminar on the topic "History and Culture of Zarafshan Oasis" was held in cooperation with Imam Bukhari International Scientific Research Center and the Institute of Asian-African Studies at the University of Hamburg, Germany. It was attended by the scientific staff of the Center, winners of an international scholarship named after Imam Bukhari, researchers of higher educational and scientific institutions of our country and abroad, and scientists from Armenia, Iran, and European countries.
At the seminar, the head of the department of the National Archeology Center under the Academy of Sciences of Uzbekistan, Prof.Dr. Gaybulla Boboyorov gave a lecture on the topic " The Early Coinage of the Muslims of Central Asia: Harmony of Arab, Persian, and Turkic Cultures".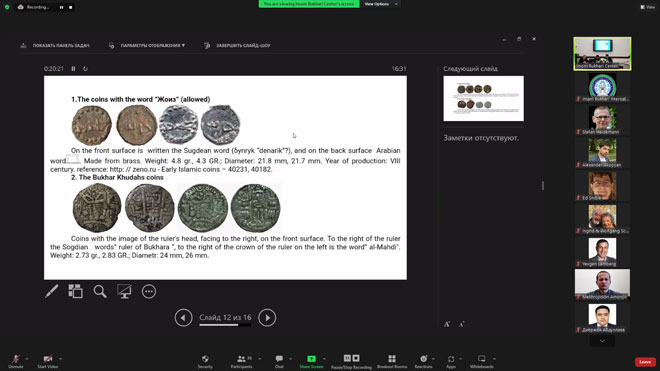 The scientist emphasized that, unlike the one-sided approach that many coins of Central Asian Muslims that have been in circulation for centuries are similar to Islamic traditions, it is possible to shed light on the unexplored aspects of the past of the peoples of Central Asia, especially the Turks, who have become the flag bearers of the Islamic world, through various images, symbols, etc. on the currency units.
Coinage in the region began nearly a thousand years before the Arab conquest. At that time, Greek, Iranian, Indian, and Chinese coins had some influence on the monetary system of this land. By the last hundred years of the early Middle Ages, Arabic, or rather, Muslim traditions, and later Arab, Persian, and Turkish cultures were combined in the numismatics of the region. In some places, it was recognized that Turkish traditions were taken as the main place.
The speaker emphasized that the specific elements of coins minted from the rule of the Ummavis to the Timurid era reflect values and cultures, and show certain stages of history. And he noted that the coins always showed the power of the ruling dynasty, and therefore now have a high historical value.
The scientist also noted the issues of preservation of coins of Central Asia, their distribution, and placement in museums. In his opinion, there is a lot of work to be done on the coins inherited from our ancestors, which are not only a means of exchange, but the making of which has risen to the level of art, and further development of numismatics.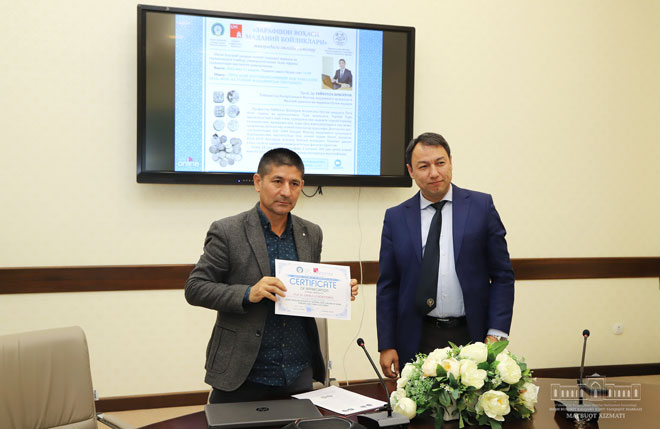 The lecture was of great interest among the participants, the seminar continued with questions and answers.
Imam Bukhari International Scientific Research Center
Press service