An online seminar was organized on the theme "History and culture of the Zarafshan oasis" at the IBXITM in cooperation with the "Institute of Asian-African Studies" under the University of Hamburg, Germany.
It was attended by international scholarship winners and scientific staff of the Center, representatives of the Research Centre for Islamic History, Art and Culture (IRCICA) of the Organisation of Islamic Cooperation (OIC), scientists of the Institute of Islamic Civilization of the National University of Malaysia, and researchers of several scientific institutions of our country.
At this seminar, Dr. Akram Habibullaev, professor at the University of Indiana of the USA, made a lecture on the theme "General information about the history and book collections of Muhammad Porso Library".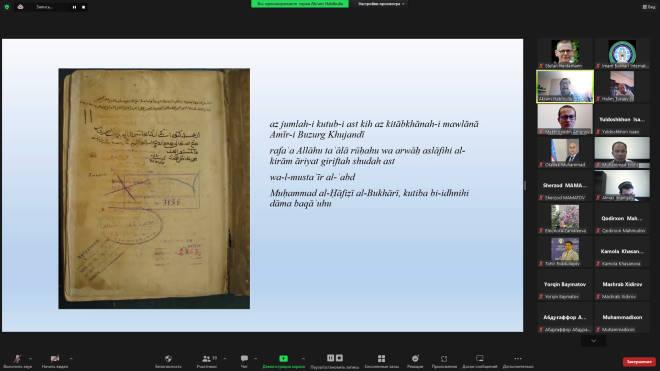 Dr. Akram Habibullayev gives detailed information about the history and creation of the library, its activities, and the manuscript collections.
Khoja Muhammad Porso has left a very rich personal library. Several articles have been published about his famous library. Sh.  Ziyadov and A. Mominov have written under the co-authorship article on the theme "New information about the library of Khoja Muhammad Porso" states that the number of manuscripts kept in his library has increased from 57 to 120. A. Mominov, E. Nekrasova and Sh. Ziyadov announced in an article under the co-authorship in 2009, that the number of manuscripts had increased to 144. Al-Moturidi's works were mainly kept in this library.
The library belongest to Khoja Muhammad Porso is very famous, it contains the books of great scholars who grew up in our country, and Porso's service in making it possible for them to reach us is incomparable. In his works were given the names of more than one hundred of our great mutasawwif ancestors unknown to us.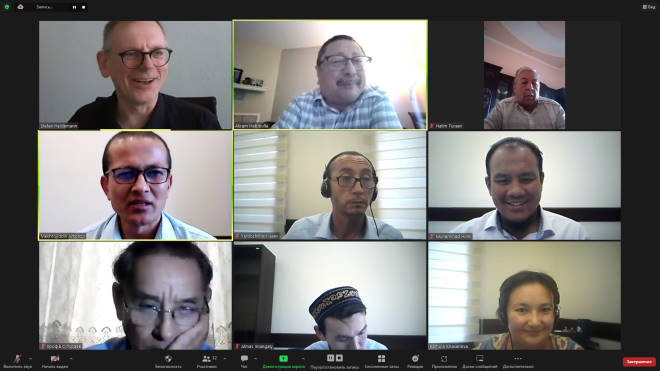 During the lecture, the scientist presented interesting information about Porso's life and the activities of the library and showed photos of rare manuscripts kept in the library.
The speaker gave scientifically-based answers to all the questions of the seminar participants.
Imam Bukhari International Scientific Research Center
Press service